Specialist tiling contractors
Fitting stone and ceramic tiles is a specialist skill and has been at the heart of our business for over 15 years. Stone and Ceramic solutions provide first class technical expertise to supply and fix all natural stone along with high-quality porcelain, ceramic and mosaic floor and wall tiles. We also carry out work with all types of man-made materials such as Corian, Silestone and Dekton.
As a specialist tiling contractor we are able to work across all industry sectors from major commercial projects and residential developments to shops, stately homes and hotels. We have worked across the City of London and the UK in a range of settings and aspire to work with the nation's leading brands and iconic buildings.
Delivering quality
We have a team of highly experienced tradesmen who specialise in fixing all types of wall and floor tiles. We operate a stringent quality control system to ensure snag free, quality workmanship delivering what we say we will, on schedule and in budget.
We have direct connections and working relationships with major UK distributors, European manufacturers and quarries. As a result we can offer the highest quality materials and select the best products available to accommodate the exacting demands of our selected clients.
We work closely with Ardex UK Limited, Norcros Adhesives Ltd, Building Adhesives Limited (BAL), and Mapei (UK) Ltd on adhesive & grout specifications so that the correct products are used at all times.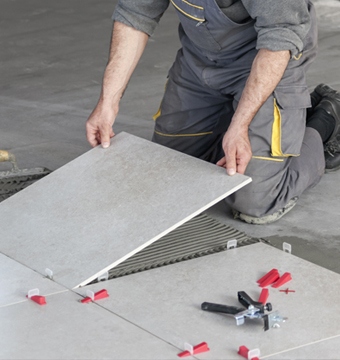 Expertise across sectors
Restaurants & Bars
Shops & Retail
Residential Property
Stately Homes
Offices
Education
Hospitals
Hotels
Care Homes
Industrial
Leisure / Gyms
Tender Enquiries
CONTACT US
We are able to carry out contracts for major commercial projects including but not limited to shops, residential developments, hotels, stately homes, schools and leisure complexes. We are pleased to receive tender and service enquiries via email, post or telephone. A member of our estimating team will be on hand to discuss your enquiry with you.